So, I totally have bragging rights:) My family and I love watching Bear Grylls on Man VS. Wild on the Discovery Channel. I wrote him last week on Facebook. I posted a picture of Hayden making "shelter" just like Bear. I was kinda sad because as soon as I posted it, it disappeared. But, I understood, he has like 5,000 fans. Crazy people could post who knows what if they didn't monitor it. BUT, yesterday I found the picture on HIS profile and guess what, HE RESPONDED!!!! And yes, I totally screamed like a little girl....but come on, this is BEAR GRYLLS we're talking about here. He's set world records! He's the only person who has flown over Mt.Everest for crying out loud:)
He makes it!!!!!!!
So, here's the picture I posted of Hayden in our backyard. And I wrote, "Bear, my family and I LOVE your show, espically my 6yr old son, Hayden. He requests to be called, "Little Bear" after you when he's outside on adventures:) Here's a pic of him in our backyard making "shelter" like Bear..haha...you can see him giving me a thumbs up sign:) God bless you and your family!!!
And here's what BEAR GRYLLS said:)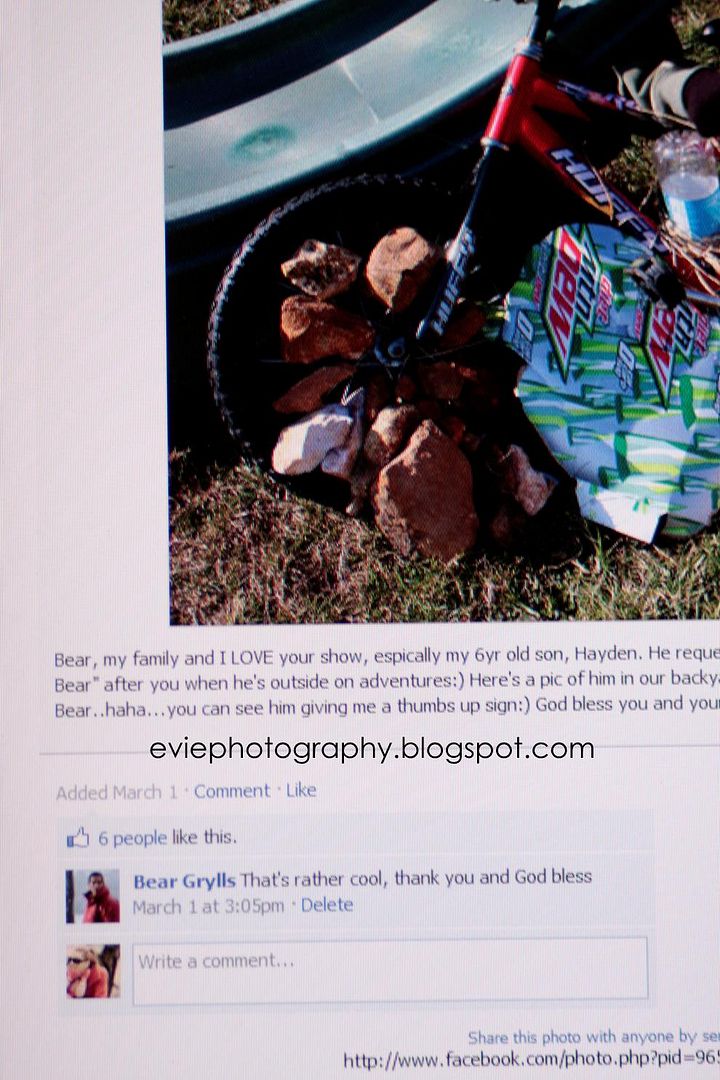 How awesome is that?! I know, I know, I'm cool;) Have a great Tuesday! Evie
P.S. Here's an article that I loved reading about Bear Grylls faith. Check it out...
http://www.charismamag.com/index.php/news/23722-man-vs-wild-star-talks-faith-at-florida-prison
Pin It